Yet again, this unlikely event took place at the Folgefonna Glacier, and yet again it turned out to be one of the best events ever made by mankind, womenkind, or all the other kinds of kind.
First of all we would like to thank Kristoffer Lerånd (@krishtlmth) and Chrille P (@chrillenorlen) for inventing this brainless contest 5 years ago. And of course we would like to thank our sponsors Revir, Session, Brettforbundet, Protect our winters, Airblaster and VisitFonna. And obviously everyone that helped build the course and all the other things that one would need to execute the contest.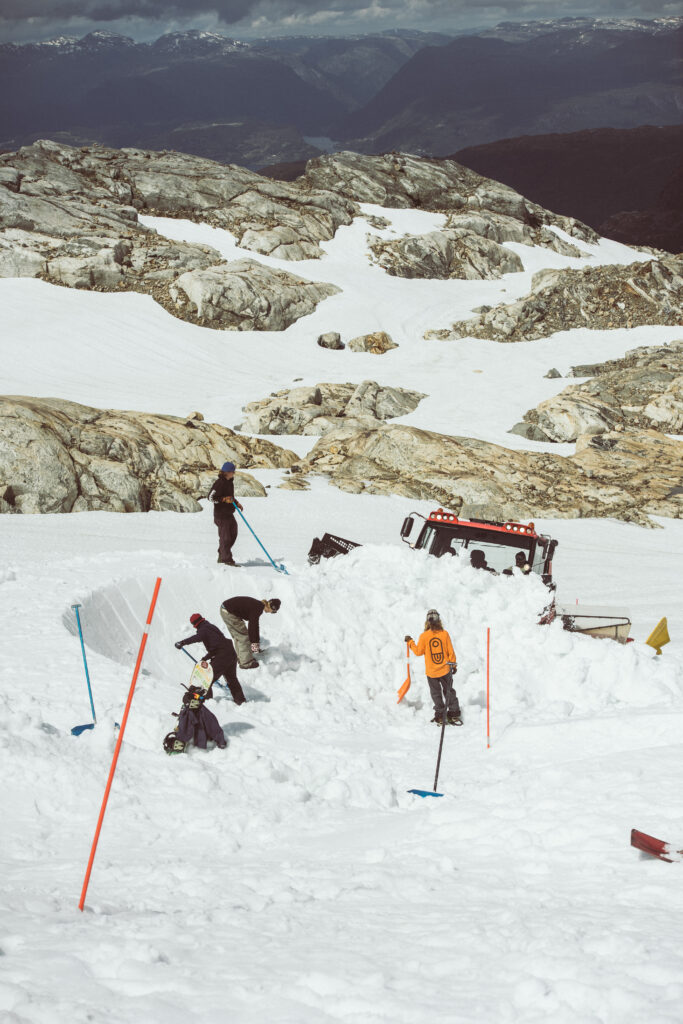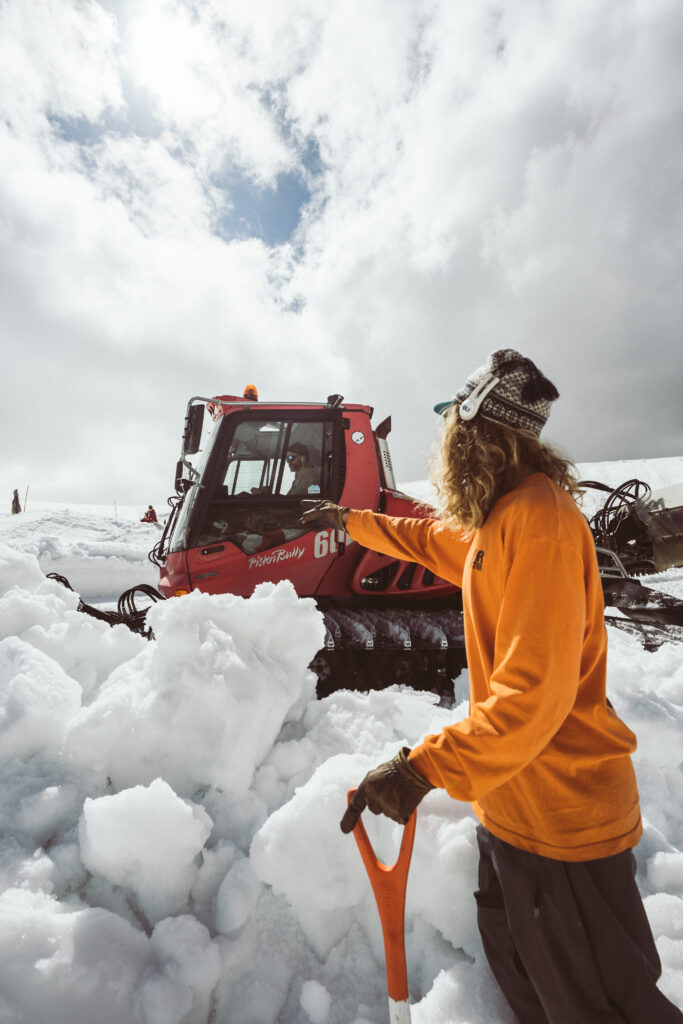 We started out by planning the course 3 days prior just to be ahead of things. But we ended up building the course the day before, and Emil (@backpackface) almost died from stress and overthinking everything as usual. Len (@sirframeface) and Krish set the line, there were some disputes about how aggressive the course could be, Eirik Nesse (@eazyneezy) kept arguing that if people died, it was their own responsibility. Keep in mind that we do not test the course at all before the contest starts, so it is just as nerve wracking each year to see if it actually works. The whole crew came to an agreement and it was all good until the next day. Oh and btw, very bigups to the main build crew: Kristoffer Lerånd, Len Roald Jørgensen, Emil Fossheim, Jonas Karlsen, Torgeir Bergrem, Trym Nordgaard, Eirik & Dina Nesse, Lambach, Kristian Skjomming, Forny, Håvard Roald, Keelso, Stian Karlsen, Mats Møllerup, Odd Rotor Skolebrød and Samuel Ærø.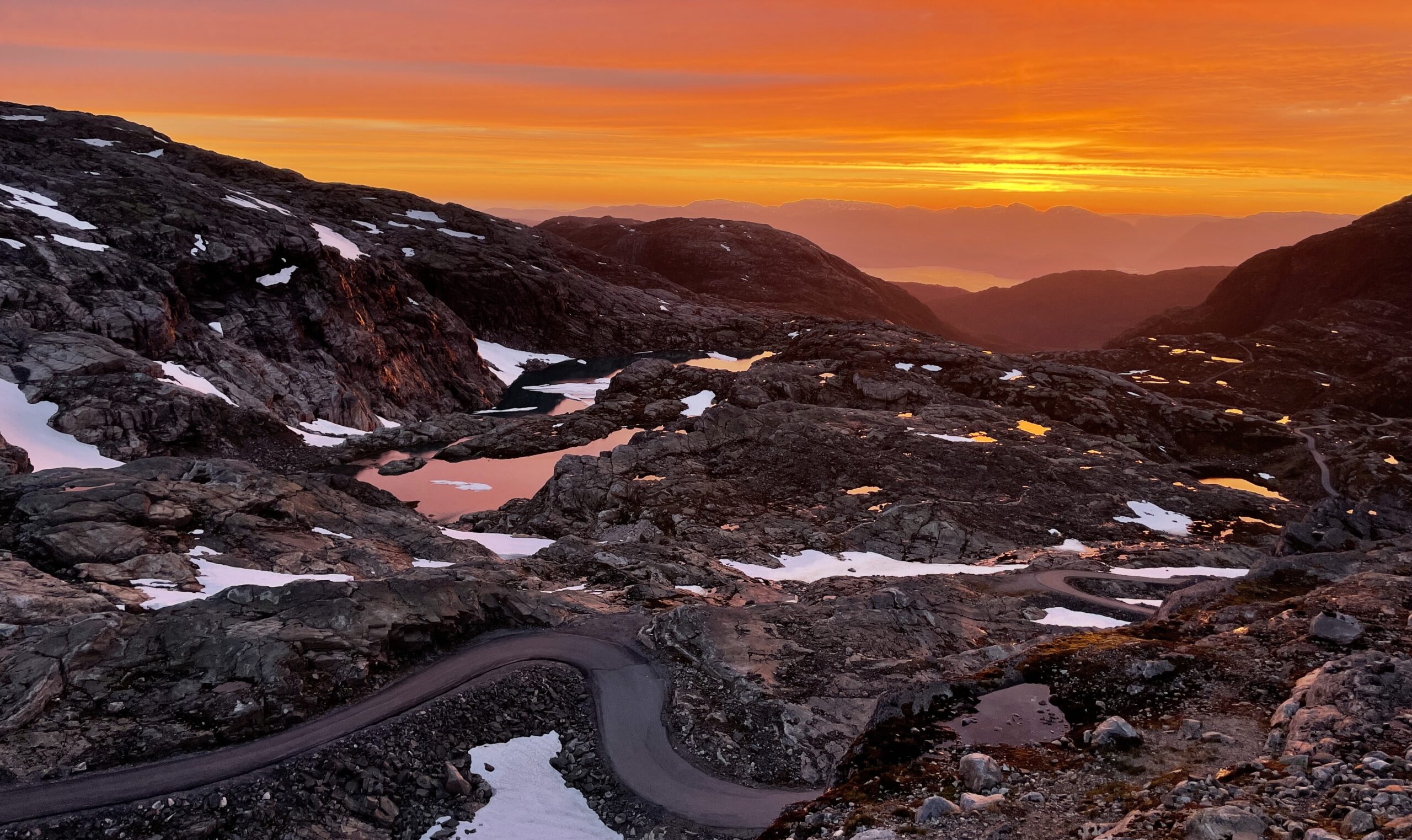 The crew camped up on the glacier with the most sweetass sunset, but was ripped out of their dreams by a crazy rainstorm in the middle of the night. With not much sleep, and a terrible forecast we decided to postpone the contest to the next day (good call Terje!).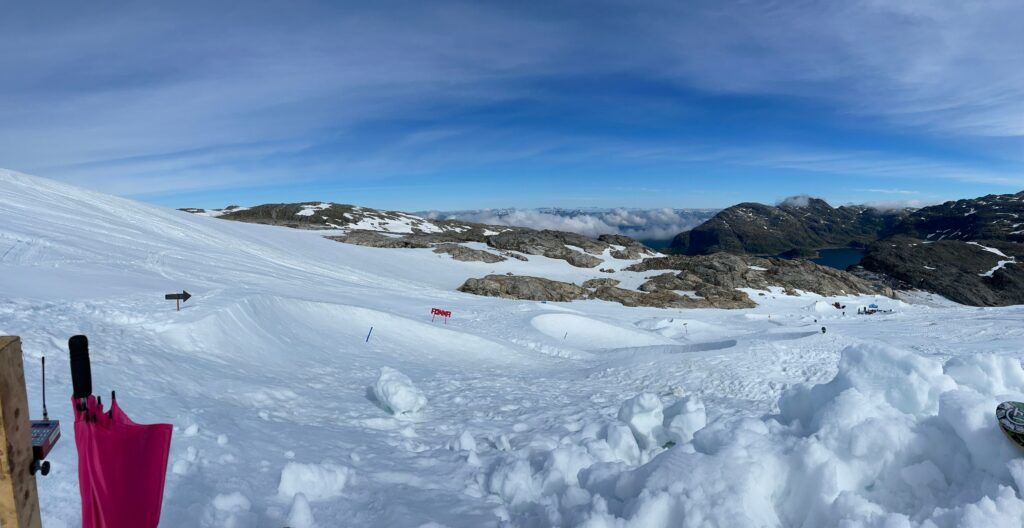 Sunday morning the riders meeting started 10:00 with only Emil and Len present, but luckily 20 mins later there were about 80-plus fast looking folks ready to send full speed down the MarioKart-looking course. The format was as usual: guess your time without testing the course. Two normal runs, one switch run and top it off with a snowskaterun at the end. A new feature this year was the vintage run: one run with a good old board. This was judged on style not time.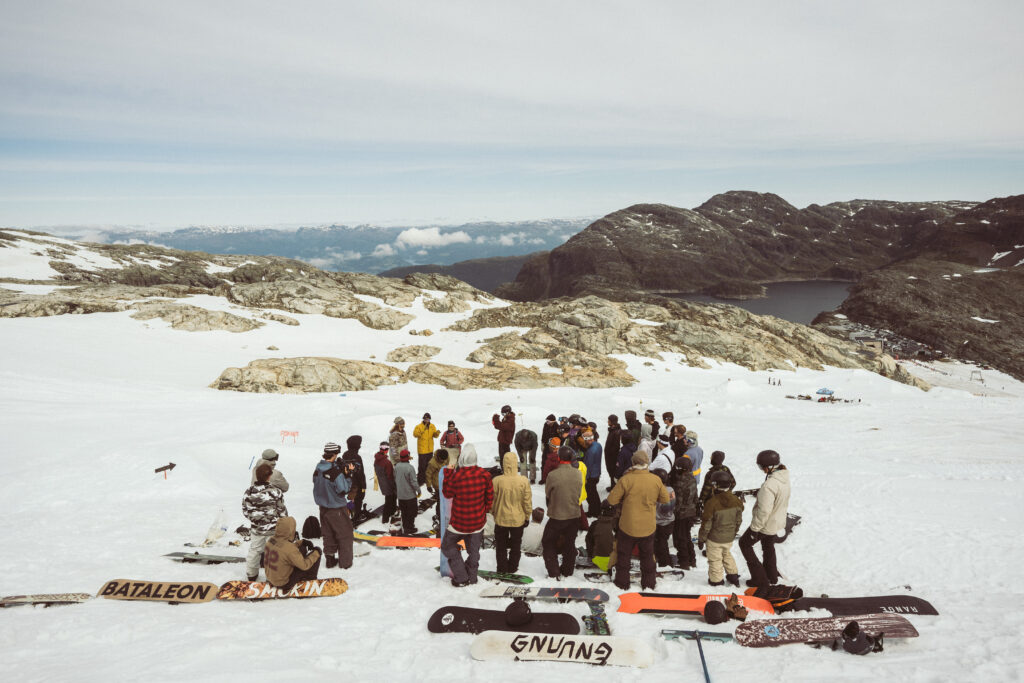 Another new feature this year was that the riders actually got to test the course, but in a way that somewhat resembled chinese downhill, it went terrible but also quite good at the same time.
Quick description of the course: right turn, left turn, right… well fuck the turns. There was a gap, a Jonas-swing (midcut transferturn), a bigass hole deep enough to cover Keeelso, the infamous Tity-City aka T-Italy aka Br-Østeriket (a big field of volcanoes between two banks) and at the end, a decent QP to end things with a bang!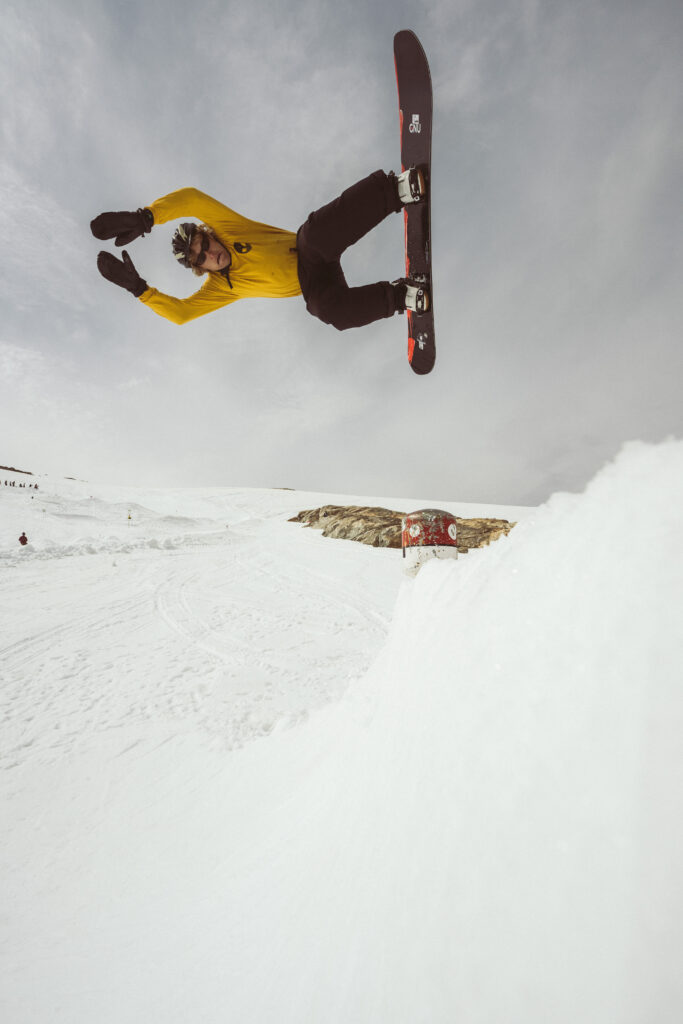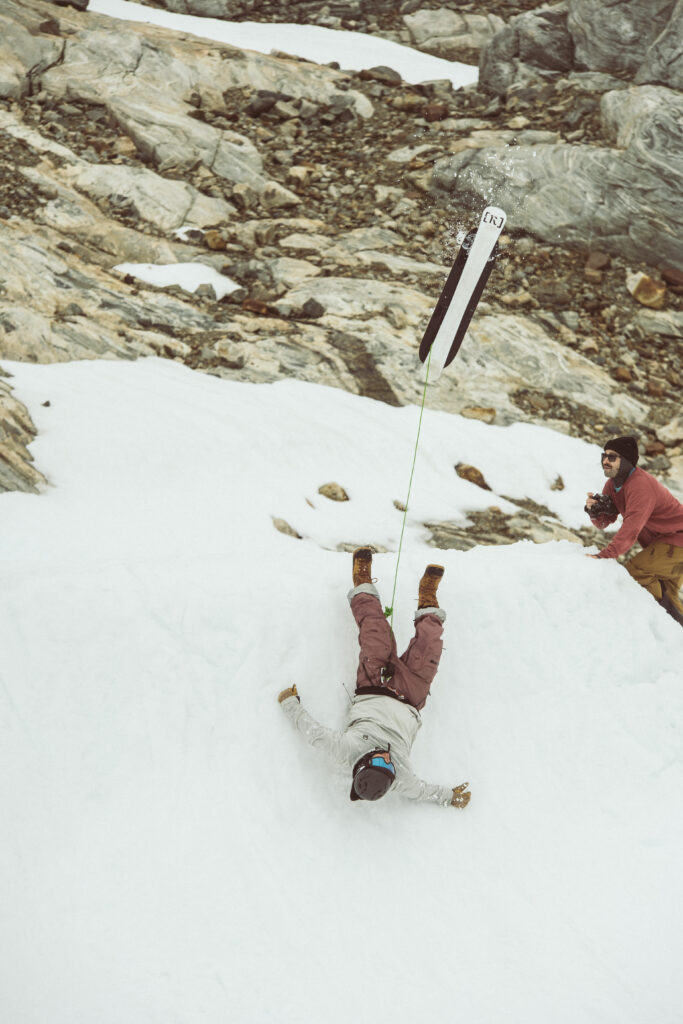 With all these treacherous burns and turns, people started to buckle up and were ready to race. It was intense. Broken boards, people riding topless without Lens approval, some went switch in their normal runs, others were sending full faceplants through the whole course. It was hard, but a small handful of people ended up being faster than Erik Johan Botner. The difference in the top 3 was a mere 0.18 seconds! At the end, Torgeir Bergrem managed to snatch first place and therefore overtaking the Crown of Infinite Speed from last year's winner Ståle Sandbech.
Another year with a satisfied crew and happy shredders. Biggest thanks to @tindyterje for making the sweet sweet excel sheet and maintaining some sanity at the Fonna Psycho Club.

If you´ve been reading this and you are shivering with FOMO, don´t worry too much. The Crown has 11 spots, and this was only our 5th year. So in theory there will be 6 more Banked Shaloms. Start waxing that board, and we hope to see you next year! XoXo, Gossipgirl.

Oh. And of course, the results:
This years legends:
Kings:
Torgeir Bergrem. 27,94 s
Len Roald Jørgensen. 28,07 s
Terje Håkonsen. 28,12 s
Queens:
Hanne Eilertsen. 32,05 s
Dina Nesse. 35,55 s
Nora Frisvoll. 35,93 s
Hoffnarrs (kids):
Fabian Hertzberg. 35,11 s
Geo von Krogh. 40,03 s
Ingrid Lehovd. 44,24 s
Sindre. 56,40 s
Other weird awards:
Masters of Switchness:
Len Roald Jørgensen. 30,47 s
Hanne Eilertsen. 37,32 s
Timelord: Renata Aulejtner, Guessed time: 37,00, Actual time: 36,68. Difference: 0,32

King of TittyCity: Last year's StokeDelivirator! Fabian Hertzberg motorboating his way into eternity

Best Skier on Board: Ferdinand Dahl

Fastest Media Person: Even Brekke: 29,94

Best Quarter Pounder Trick: Sindre Tveiten with a sweet sweet Bs Handplant.

Best snowskate run: Terje Håkonsen 32,77 s

New fart (Youngest Contestant): Sindre 10 y.o
Old Fart (Oldest Contestant): Henrik Lehovd 50 y.o

Best slam: Øystein Fornes He even managed to pull this one off before the practice was done.

Best helmet: Emil Svendsbø. He was going so fast he needed a motorcycle helmet to keep him safe.

Vintage Warrior: Stian Karlssen Styling like he never left the 90´s with his Lib Tech Matt Cummins Radical Rick board.

Best effort: Trym Nordgaard, He did his best, but both his homies was faster then him, even going switch.

Bipolar Rider: Samuel Ærø This dude figured out he should ride faster switch than normal.
Edit by Thomas Wietse (@Wietsethomas)
And thanks to Even Brekke and Chris Baldrey
You can find all pictures are from the event here – there's almost a million photos
-If you're planning to steal them to show off to your friends on insta, make sure to tag, and give credit where credit is due (@evenbrekke & @chrisbaldrey + @mushroom_crew)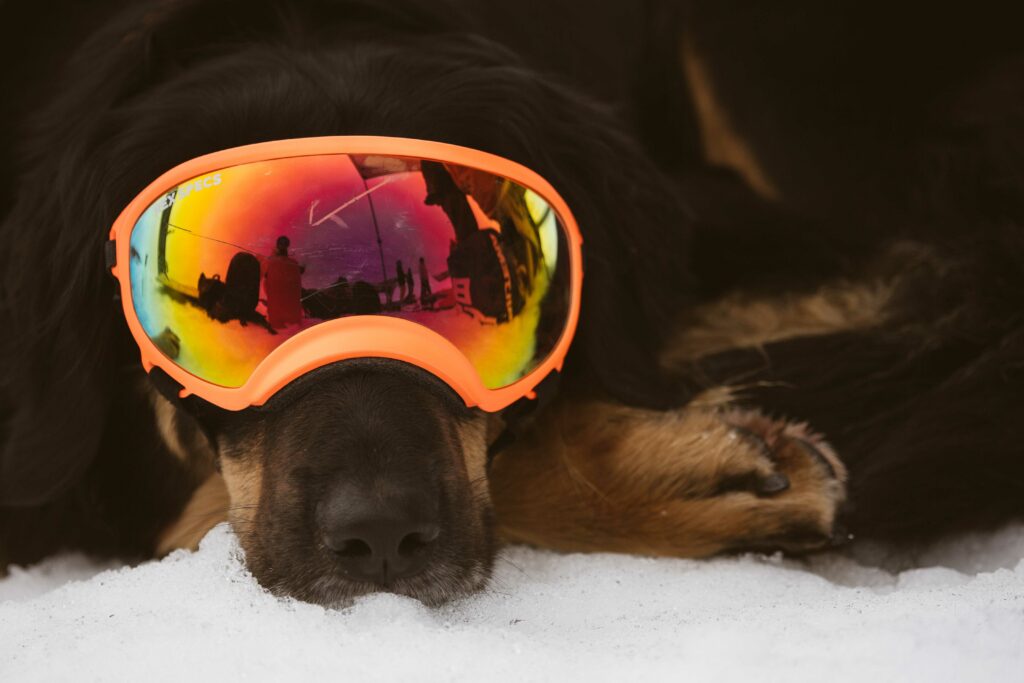 Thank you for existing – Sincerely, Mushroom Crew
Come back next year, please.